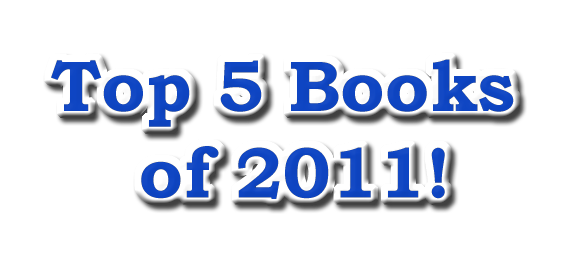 This year, I decided to do something a little bit different than last year. Since last year I did a WHOLE list of top 10 books that I read and loved. I decided that I wanted to do a countdown of the top 5 books that impacted me the most this year.
2011 has been a great year for books, some books I liked better than others.With the help of my friend, I have narrowed down my list of favorite books to five. It was a very hard thing to do, but after an hour of discussion I finally did it. These are all debut books, they came out 2011. I loved other books that weren't released 2011, but maybe I will create a separate list for that one.I will be counting down, on December 31 2011 (tomorrow), my #1 debut novel will be revealed.
Before scientists found the cure, people thought love was a good thing. They didn't understand that once love -- the deliria -- blooms in your blood, there is no escaping its hold. Things are different now. Scientists are able to eradicate love, and the government demands that all citizens receive the cure upon turning eighteen. Lena Holoway has always looked forward to the day when she'll be cured. A life without love is a life without pain: safe, measured, predictable, and happy.

But with ninety-five days left until her treatment, Lena does the unthinkable: She falls in love.
Dystopian seem to be the genre of the year. I think you guys can guess what my number one pick will be from that. But it started with
Delirium
. I read this book at the beginning of the year, and I didn't get to review it for some reason, after that I just didn't get around to it, so this will be my review for Delirium.
The reason this didn't end up being my number one is that while there was enough romance, the action didn't take such a big part in the plot. Though there is action, don't get me wrong, it is at the very end-ish. I was happy with the romance, and Lauren Oliver can write with so much emotion that I was crying by the end of the book.
While dystopian books been very popular lately, I had never read anything like this.
A life without love.
That is unimaginable, and quite sad.
The thing that I really liked is that the Lena's love interest is not mentioned in the summary so you have no idea who it is or where they meet.
Lena's love interest will be dreamy to say the least, he will be forever in my literary-boyfriends list (yes, I have one). Lena as a character is the girl next door, there is nothing I didn't like about her that she could do anything about. The way she ran away from her feeling when she finally realized she was in love was frustrating, but she was raised like that. The way she felt ashamed of her mother for being able to love her was also annoying, but being raised to believe that love was dangerous and deadly, I cannot blame her.
Delirium
was an amazing first book to what I know will be an amazing series. I would recommend reading it in 2012 if you didn't have a chance to read it in 2011.